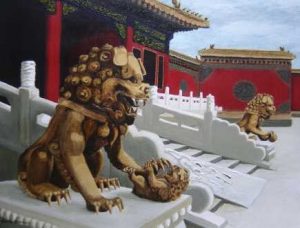 'The Forbidden City' painting is currently on display until autumn 2018 at
The Forum House Restaurant
52-54 Woollards Lane
Great Shelford
Cambridge CB22 5LZ
The acrylic painting is for sale. To make enquiries or to purchase it please contact me directly via the contact section of this website.
Displaying 'The Forbidden City' at the restaurant came about when Euan & I went out for a meal at the Forum House. While sitting at our table and taking in the paintings and openwork on the walls I drifted away to recall artwork I had created earlier inspired by the sculpture and buildings of the Forbidden City. While on this trip down memory lane the menu was handed to us, on its cover was a sketch of the same sculpture and buildings I had painted but from a different angle. Curious at the coincidence I had a good chat with the restaurant owner and found that we had a shared interest in art and the Forbidden City. He had chosen that subject for the menu cover after he had visited The Forbidden City in Beijing and been inspired by exactly the same setting.